The Mortgage Process Doesn't Have to be Scary!
Applying for a mortgage is definitely a big step, but it doesn't need to be one you fear.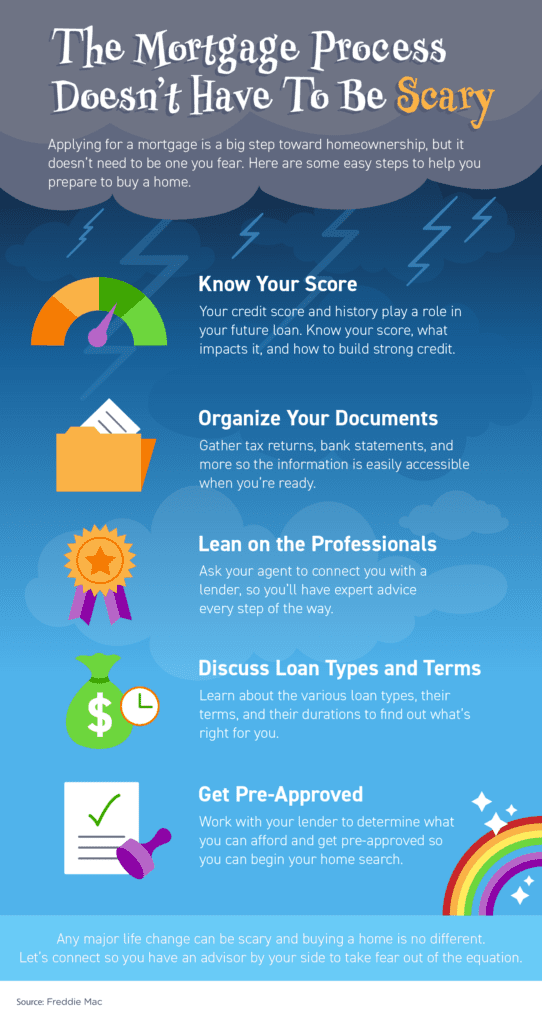 Breaking down the process into simple steps can take the uncertainty out of the mortgage process.
Step 1- Know your credit score. This is a great starting point because your credit score and history have a big impact on your future loan. If you need to take time and make a plan on how to raise your score, this is where you need to start.
Step 2- Organize your documents. Having all the needed documents organized and together will take out a lot of stress and worry from the process. Make sure you have tax returns, bank statements, and any other documents you'll need together and accessable.
Step 3- Gather your professional team. Having the best team will help you ease worries as you can rely on their expert advice. Make sure you have a real estate agent and mortgage broker you can trust.
Step 4- Discuss Loan Programs. There are various loan types, programs, terms and durations; discuss with your mortgage broker what will work best for your situation.
Step 5- Get Pre-Approved. Work with your lender to get pre-approved. Once you have that, you can begin your home search feeling confident you know where you stand.
If you're interested in buying a home, let's connect so you have the right advisor by your side to take any fear out of the equation! Call today: 206-866-5079