Myths About Today's Market
Have you been hearing a lot of differing opinions on today's market? Are you wondering if you should wait to buy or not? Let's clear a few misconceptions up!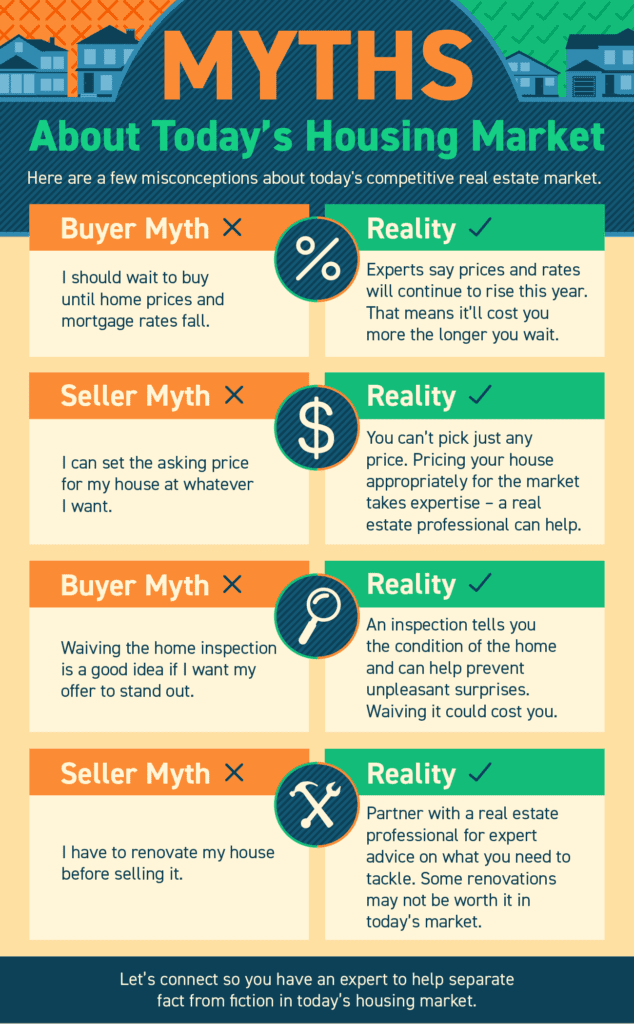 WAITING TO BUY?
Myth: I should wait to buy until home prices and mortgage rates fall!
Reality: Experts say prices and rates will continue to rise this year. That means it'll cost you more the longer you wait!
ASKING PRICE
Myth: I can set the asking price for my house at whatever I want.
Reality: You can't pick just any price. Pricing your house appropriately for the market takes expertise – a real estate professional can help you with this.
HOME INSPECTIONS
Myth: Waiving a home inspection is a good idea if I want my offer to stand out.
Reality: An inspection tells you the condition of the home and can help prevent unpleasant surprises. Waiving it could cost you a lot more than it will save you.
RENOVATING
Myth: I have to renovate my whole house before I can sell it!
Reality: Partner with a real estate professional for expert advice on what you need to tackle. Some renovations may not be worth it in today's market.
Connect with us today, we're always happy to help separate fact from fiction in today's housing market! 206-590-2414